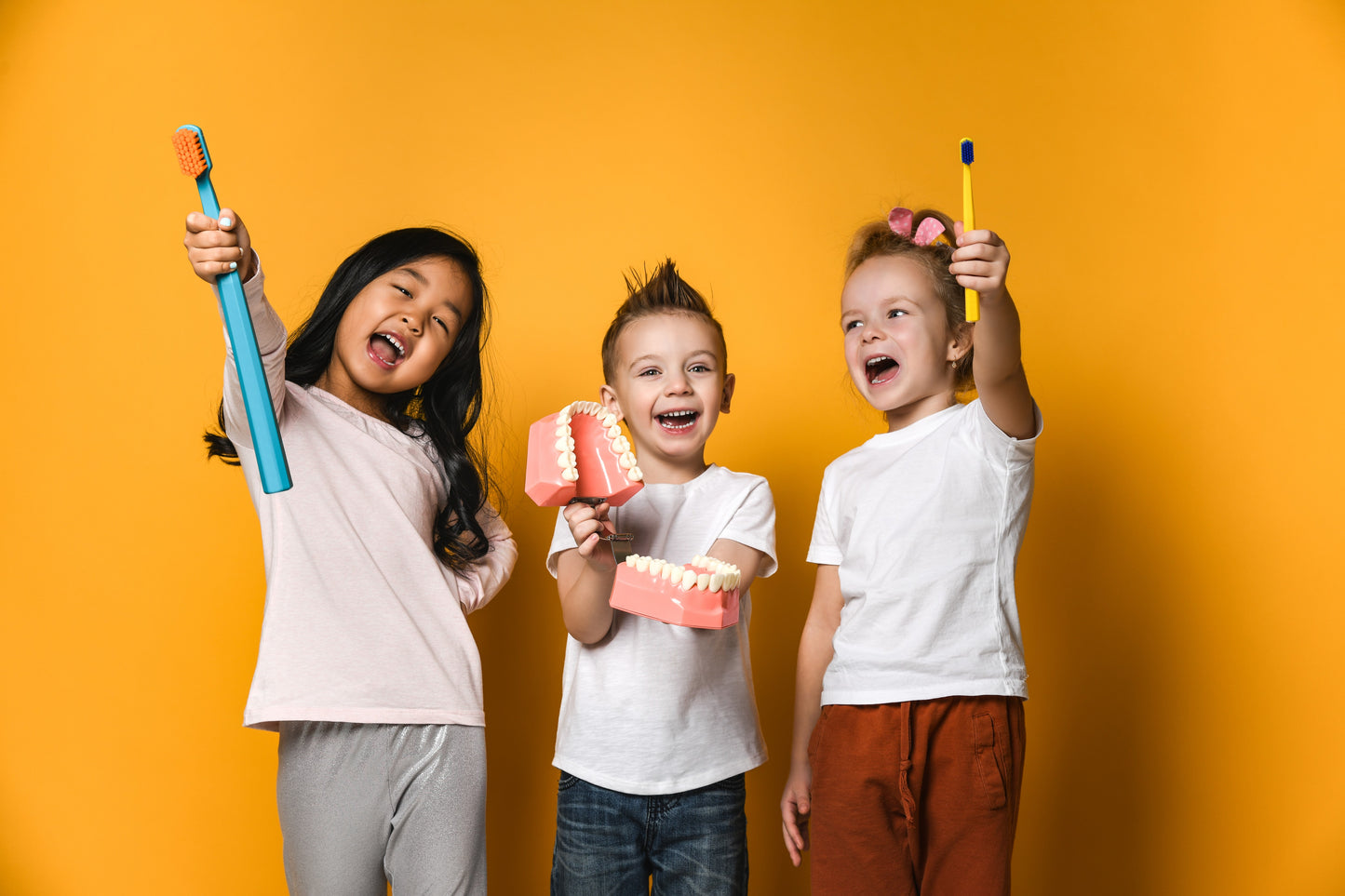 Long and exhausting dramas at the tooth brushing routine? Then you are not alone. Most parents are all too familiar with the battle over dental hygiene. Luckily here at Kaylaan, we developed an eco-friendly way to make brushing time as easy and fun as it can be.
Eco-Friendly Habits: Small But strong
Establishing a regular dental care routine with your family and dentist creates a firm basis for strong, healthy teeth and gums. Preventative care is the first step to maintaining strong, healthy teeth. This will only work if it is practiced constantly and carefully. Simple acts like brushing and flossing can help prevent cavities and gum disease from ruining a beautiful smile. Now think for a minute and picture it eco-friendly… Impossible? Not with us. 
Eco-Friendly Oral Hygiene
Considering how often we use (and dispose of) our oral hygiene tools, this ends up creating a lot of waste. A more eco-friendly approach to oral hygiene is to invest in better products. Here are a few ways you can get started right here at Kaylaan.
Eco-Friendly Brushing Routine: Easy & Fun!
So after hearing different testimonials about our products, there were a few that really, REALLY got our attention. When you start to create something that would benefit the environment and dental hygiene as we knew it as well, it catches your eye when you think your target audience has an even more challenging one and that is KIDS.
Our non-toxic sustainable toothpaste tablet provide a natural, portable, fun, and efficient tooth cleaning experience. Cruelty-free and plastic-free, we are good for the planet and good for humans! So how do we at Kaylaan come up with an easy and fun way to keep the brushing dramas behind? With 3 simple steps:
CRUNCH:

Let your little one pick one of our many flavors (the fruity ones are great for kids) and just like eating a candy, crunch it to get all the goodies out.

BRUSH:

It's showtime! With the help of an

eco-friendly toothbrush

give their little teeth the time of their life by brushing them thoroughly. Watching foam appear like a magic trick will keep them interested and aim for the brushing hour.

SMILE:

Get used to seeing a lot of smiling around the house because after trying this simple, fun, and complete brushing routine it is nothing but smiles and laughs.
Bonus:
Here are a few extra tips to add more fun to your kids' brushing routine. 
Let's Sing:

Play a song or invent one so tooth brushing time becomes even more fun and playful!

Make it a game:

Teeth brushing games are a great way to add fun to your child's bedtime routine. Tell your child to imagine their mouth is full of tiny sugar bugs that can only be destroyed by brushing. While they scrub their teeth, let them know how much progress they're making. At the end of two minutes, exclaim that they have defeated the sugar bugs!

Lead by example:

For better or worse, kids love to copy adults. Join them at teeth brushing time and show them how it's done. You could also let your child help brush your teeth. Sometimes practicing with someone else can help them feel more comfortable with the process.

 
Something to celebrate: A reward system is a classic way to encourage good behavior. Design a chart or calendar to hang in your bathroom, then add a sticker after each successful teeth brushing session. The actual reward is up to you. When they reach 10 stickers, offer a special treat. Be creative!
Eco-friendly Growth Journey
Don't expect your children to embrace brushing their teeth overnight. It takes time, and you'll need to experiment to figure out what works for your family. With a little effort and inventiveness, dental care can become something to look forward to.