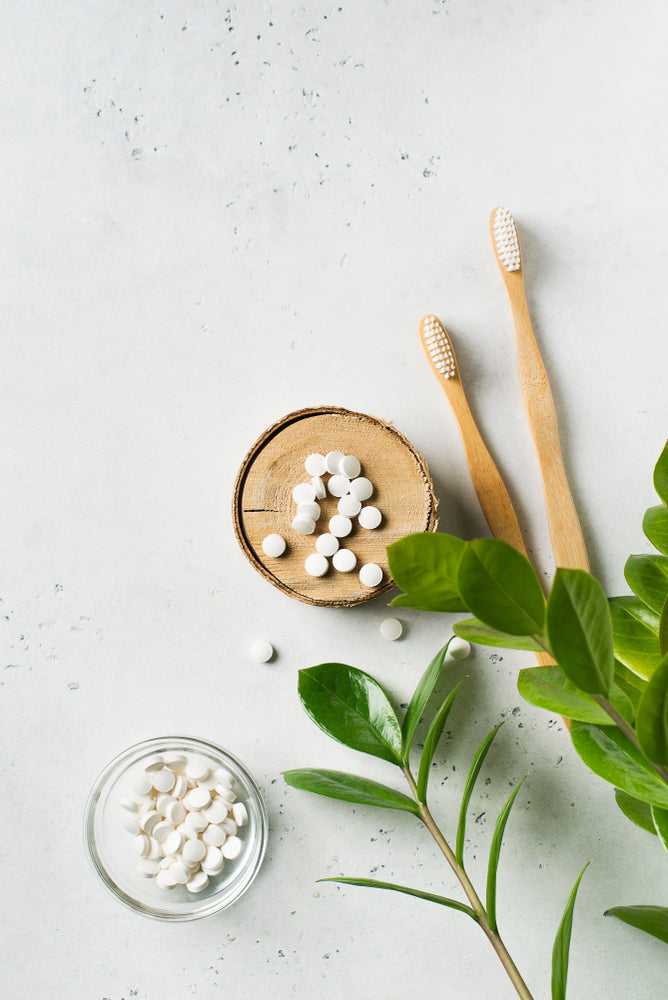 What's "clean" for your teeth isn't always what is clean for the environment. Some of the conventional dental care products are made with ingredients that can cause potential harm to the planet. And yes, maybe sodium lauryl sulfate (SLS) and triclosan keep your teeth pearly white, shiny, and feeling clean; but, the truth is, everything that goes down the drain ends up somewhere else. Those ingredients don't just disappear,  they usually appear in one of our vital waterways and if your toothpaste's ingredients aren't sustainable for the environment they can cause significant harm. 
Sustainable Factors For The Environment
How often do you consider the impact of toothpaste on the environment? From the packaging to the ingredients, everything counts. There are several factors that go into choosing sustainable toothpaste that can be a game-changer for the environment.                                                                                             
1. Firstly, no one wants to brush and rinse with toothpaste that tastes terrible, so the flavor is a key point and organic options are a great choice because of their natural and fruity ingredients. 
2. Secondly, health is a top concern. In cases of sensitive gums or stained teeth, you might choose a specific toothpaste that is formulated to help those health concerns, and your dentist may also have recommended a specific one. Sustainable toothpaste options can and will help with some of these issues but also take care of the planet.
Environmental Facts And A Sustainable Solution
An estimated average shows that Americans use 20 gallons of toothpaste throughout their lifetime. So using sustainable and environmentally friendly toothpaste is crucial. If 20 gallons of toothpaste per person ultimately ends up in our environment, then choosing the best option for the environment should be one of the most important factors of all. 
Are Toothpaste Tablets Sustainable For The Environment?
And the answer is yes! For a start, the packaging is plastic-free, and the ingredients are natural and not harmful to the environment. If you're new to toothpaste tabs, they look like mint candy pills; you chew them a bit, add water, then start brushing and you'll have a safe, non-toxic foam. Generally, conventional toothpaste ingredients that are considered harmful include sodium lauryl sulfate (SLS), carrageenan, propylene glycol, triclosan, and unnecessary additives like artificial colors and sweeteners. 
Sustainable Toothpaste Tablets Goodies That Make The Environment Better
Made to be safe for the environment, toothpaste tablets are formulated with plant-based ingredients like eucalyptus, coconut oil, xylitol, bentonite, charcoal powder, licorice root, and more. Even though toothpaste tablets and their components go down the drain, they don't harm the environment when they make their way to the waterways.
While traditional toothpaste might not be totally friendly for the environment, Toothpaste tablets are a great alternative to make a sustainable change.