Related products
You will also love:
Related Products
People Also Bought
Electric Bamboo Toothbrush
$0.00 USD$75.00 USD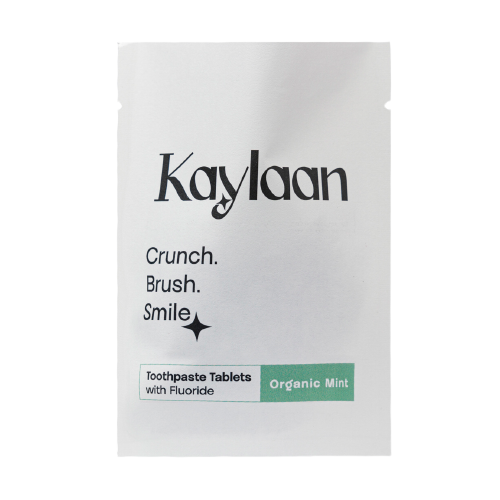 Mint Toothpaste Tablets Refill
$10.99 USD
Kaylaan Replaceable Bamboo Toothbrush Heads
$22.00 USD
How to Use
How to Use
01
Crunch the toothpaste tablet in your mouth.
02
Brush with a wet toothbrush.
We're committed to donating more than 2% of our revenues to charitable partners each year (including in-kind product donations).
Learn More
12,251Trees Planted to Date
Super Clean
I love the Kaylaan toothpaste tabs. They foam up to make a cleansing mouthwash effect leaving your whole mouth feeling fresh. My teeth get really clean as well.
Mixed reviews. Great if you want to get a...
Mixed reviews.
Great if you want to get away from the plastic tubing, it's very easy to pack and use. The eco friendliness of this item is fantastic.
I gave it a three due to the taste and texture. I personally didn't like the taste and when I bit down (got the blueberry flavor) now I had to commit to a while bag in order not to waste it. I wish there was something in which I could try all the flavors then I could go back and purchase one. Having said that, they did provide a free sample with my purchase (I think it was mint flavored) that one was very good.
Updated: 4 stars, thank you for reaching out and messaging. They do offer more flavors but elsewhere. Overall, thank you for the good customer service!